Archaeological basketry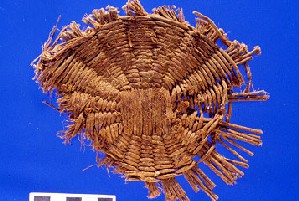 This site aims to inform both professional and amateur archaeologists, anthropologists and ethnographers about historical and prehistorical baskets, brushes, sandals and rope.
Contents:
Until more information can be made avaiable, reference is made to the following publications by W.Z. Wendrich, Assistant Professor of Egyptian Archaeology at UC Los Angeles.
Who is afraid of basketry? A guide to recording basketry and cordage for archaeologists and ethnographers, Leiden: Research School CNWS; 1991.
The World According to Basketry. An ethnoarchaeological interpretation of basketry production in Egypt (with a 60 minutes video tape of present-day Egyptian basket makers), Leiden: Research School CNWS; 1999.
These books can be obtained at Oxbow Books or directly from the publisher.
---