Archaeological research in the 21st century has a double responsibility: working according to a well thought out research design and preserving the cultural heritage in the research area. The Fayum Project fully integrates research and heritage management in an approach that covers both. A third major component of the project is training in archaeological techniques of inspectors of the Supreme Council of Antiquities, as well as students. The project was initiated and is directed by faculty of the University of California, Los Angeles (USA) and the Rijksuniversiteit Groningen (The Netherlands), partnering with others, such as Auckland University (New Zealand) and the Vrije Universiteit (The Netherlands).
Archaeological research
The Fayum Project is a diachronical study of land and water use in the Fayum, in relation to the development of agriculture over time. Based on the reconstruction of the ancient landscape along the lake shore and climatic variation, the project maps human interventions and activities. The study concentrates on two major periods: prehistory, specifically the Neolithic adoption of agriculture, and the Greco-Roman Period when agricultural yield from the Fayum was an important asset in political power play of the Ptolemies and the Roman Emperor.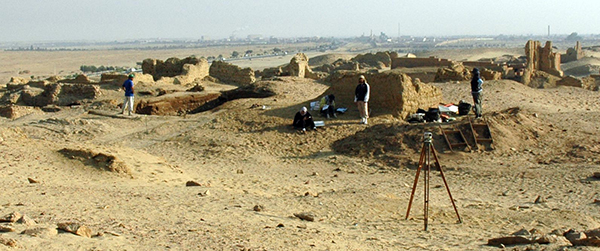 The publications of the Fayum Project will have an online component, which enables users to access the original spatial, qualitative and quantitative data.
Site and landscape management
In 2005 the URU Fayum Project initiated a landscape management project, which promotes the preservation of the natural and cultural landscape north of Lake Qarun. More information can be found here.
A part of the process concentrates on the Greco-Roman town of Karanis. Located along the road from Cairo to Fayum City, Karanis forms the gateway to the Fayum Oasis. It is, therefore, an excellent location for a visitor's center with a focus that is broader than the site itself. A unique location has been found in which this information center can be housed in the future: the old excavation house built by the University of Michigan in the 1920's will be restored and opened to the public under the name Beyt Sobek.